Events Review and Prospect
Though founded not so long ago, the Institute has successfully held, on September 13, 2014, the first Sino Finance Renowned Personnel Forum — New Age, New Situation, New Challenge themed by "Exploring New Development Trend and Enlightening New Forward Thinking", which is jointly lectured by a high-level expert team formed by famous business leaders, bank presidents, noted financial teachers, and cultural masters. Through studies on the latest management theories, the Institute introduces the internationally authoritative scientific management system, mines typical cases for discussion, conducts researches by integrating Chinese traditional management thinking, and builds a platform collecting contacts exchanges and cooperation for financial leaders. Meanwhile, the Institute's high-end training projects are released and launched on the forum.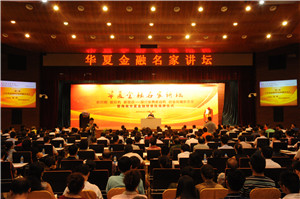 Main speakers attending this forum include Mr. Chen Feng, business leader and board chairman of HNA Group, Mr. Ma Delun, former vice president of People's Bank of China and President of Banking Accounting Society of China, Mr. Wang Yilin, president of Hainan Branch of Bank of China, and Ms Wang Liya, professor from the School of Economics and Management of Hainan University, academic leader of finance, and executive director of the Institute. Their lecture themes are "Today's Era and Chinese Culture — Entrepreneurship and Corporate Culture", "Development and Prospect of China's Financial Reforms & RMB's Internationalization and Interest Rates Liberalization", "Broad Prospect in Hainan's Tourism Real Estate Industry", and "Internet Finance and Wealth Management" respectively. The forum is hosted by Mr. Hu Weidong, distinguished scholar and vice chairman of the Institute. More than 400 people including supervisory managers in the financial circle, financial elites, as well as business principals and executives inside and outside Hainan attend the forum.
The speakers lecture from a strategically advantageous position with witty remarks, gaining continuous applause in a warm atmosphere. The forum focuses on the unique problems existing in domestic financial institutions and carries out discussions in combined aspects of management and culture, environment and oneself, as well as theory and practice. It gives insights into the trend, grasps chances, and strives to expand the trainees' horizons. Moreover, it builds a bridge between scholars, bankers, and entrepreneurs, and cultivates business elites who can calmly cope with future competitions for leadership improvement of financial executives, growth of financial talents, and sustainable development of finance.

Sino Finance Renowned Personnel Forum is both a thought feast and a wisdom exchange. As we know, the development and thriving of any industry usually starts from culture, is implemented consistently, searches market segments for the industry direction, grips the relationship between technology and wealth, and finally grasps the development trend and influencing factors on a macro level. Following this line, we list four topics around hot, difficult and key issues during the integrated development of finance and entity industry to deduce the general direction of financial development. This Forum starts from corporate culture, deeply analyzes the tourism real estate, responds to challenges facing Internet finance, and carries out discussions on the national financial policy level. These four independent topics can meet all trainees' requirements for financial development, industry-finance cooperation, and financial thinking with their close internal logic and rich thought connotation.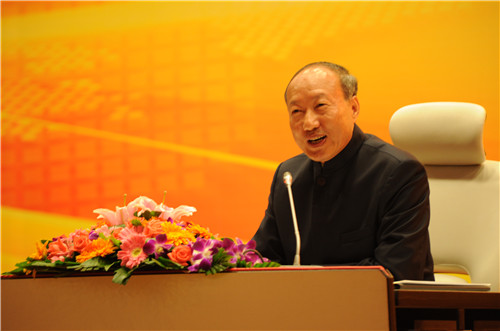 This forum arouses strong repercussions among the financial and business circles and wins high marks from all sectors of Hainan province. Meanwhile, multiple media including Hainan Window on people.com.cn, Hainan Daily, and Nanguo Metropolis Daily run features centering on "Sino Finance Renowned Personnel Forum Boosts the Building of International Tourism Island of Hainan".

The Institute plans to hold the second Sino Finance Renowned Personnel Forum in the first half of 2015 in Hainan, lasting for two to three days. The theme is initially fixed to "Space for Financial Reform & Enterprises' Rapid and Continuous Expansion and Profiting". The forum size is initially fixed to 500 people formed by executives from domestic and overseas major financial institutions and various enterprises, related leaders of the national financial regulators and the Ministry of Commerce, as well as senior experts from famous universities.

The Institute plans to hold one or two Sino Finance Renowned Personnel Forums each year. Following the combined principles of "professional, systematic, and forward-looking", it intends to invite related leaders from the financial regulators, senior experts from Central University of Finance and Economics and Hainan University, experts and executives with field-specific experience in famous financial institutions to form a team of famous lecturers. It aims to boost the take-off of enterprises with financial innovation. By gathering many resources, it is committed to cultivating a group of world-class entrepreneurs and financiers with global vision, innovative strategy, and capital operation and decision-making capability for the development of domestic economy and building Hainan as an international tourism island.